So, after finishing all (apart from 1) the books from My Most Excellent Idea last week, I took all the books back today and got some more out.  Another 6.  I must admit though, this is saving me a fortune!  They've actually been getting newer and newer books in so I've been able to get some that have found their way on to my  Amazon wishlists. Yes, I have more than one wishlist.  I'm going to have to take my time with some of these as I've still got 2 for reviewing from Bookbridgr.
So, my 6 books for this week are:
The Cosy Tea Shop in The Castle by Caroline Roberts

When Ellie Hall lands her dream job running the little teashop in the beautiful but crumbling Claverham Castle, it's the perfect escape from her humdrum job in the city. Life is definitely on the rise as Ellie replaces spreadsheets for scones, and continues her Nanna's brilliant baking legacy.When Lord Henry, the stick-in-the-mud owner, threatens to burst her baking bubble with his old-fashioned ways, Ellie wonders if she might have bitten off more than she can chew. But cupcake by cupcake she wins the locals over, including teashop stalwart, Doris, and Ellie's showstopping bakes look set to go down in castle history!
Now all that's missing in Ellie's life is a slice of romance – can Joe, the brooding estate manager, be the one to put the cherry on the top of Ellie's dream?
The Time of the Clockmaker by Anna Caltabiano


Her mentor shockingly killed in front of her, Rebecca Hatfield must flee the place and time she knows. She has lost her family, her dearest love and her ability to live a normal life. All she has left is the gift – or curse – of her immortality, and the bizarre clock that allows her to travel in time.
But when she too is attacked by the mysterious black-clad figure, Rebecca finds herself stranded in Tudor England. The clock has been stolen and without it, she can never leave the past. Alone, without friends or resources, she must risk the danger of Henry VIII's court and hunt down her attacker.
But someone else is waiting for her…
Three Amazing Things About You by Jill Mansell


Hallie has a secret. She's in love. He's perfect for her in every way, but he's seriously out of bounds. And her friends aren't going to help her because what they do know is that Hallie doesn't have long to live. Time is running out…
Flo has a dilemma. She really likes Zander. But his scary sister won't be even faintly amused if she thinks Zander and Flo are becoming friends – let alone anything more.
Tasha has a problem. Her new boyfriend is the adventurous type. And she's afraid one of his adventures will go badly wrong.
THREE AMAZING THINGS ABOUT YOU begins as Hallie goes on a journey. A donor has been found and she's about to be given new lungs. But whose?
Reawakened by Colleen Houck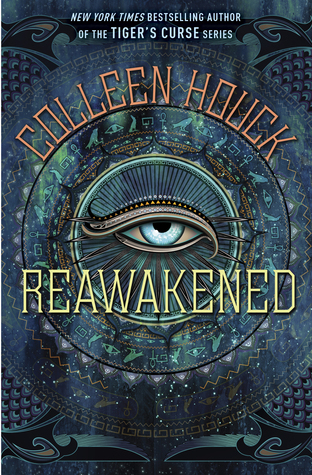 When seventeen-year-old Lilliana Young enters the Metropolitan Museum of Art one morning during spring break, the last thing she expects to find is a live Egyptian prince with godlike powers, who has been reawakened after a thousand years of mummification.
And she really can't imagine being chosen to aid him in an epic quest that will lead them across the globe to find his brothers and complete a grand ceremony that will save mankind.
But fate has taken hold of Lily, and she, along with her sun prince, Amon, must travel to the Valley of the Kings, raise his brothers, and stop an evil, shape-shifting god named Seth from taking over the world.
The City's Son by Tom Pollock


Expelled from school, betrayed by her best friend and virtually ignored by her dad, who's never recovered from the death of her mum, Beth Bradley retreats to the sanctuary of the streets, looking for a new home. What she finds is Filius Viae, the ragged and cocky crown prince of London, who opens her eyes to the place she's never truly seen.
But the hidden London is on the brink of destruction. Reach, the King of the Cranes, is a malign god of demolition, and he wants Filius dead. In the absence of the Lady of the Streets, Filius' goddess mother, Beth rouses Filius to raise an alleyway army, to reclaim London's skyscraper throne for the mother he's never known. Beth has almost forgotten her old life – until her best friend and her father come searching for her, and she must choose between the streets and the life she left behind.
Match Me If You Can by Michele Gorman


Meet best friends Catherine, Rachel and Sarah. Yet to find Mr Right, they've been settling for Mr Right Now. But when Catherine, London's finest matchmaker, gets the girls to join her dating site where they can recycle their ex-boyfriends, they soon realise that anything could happen.
Rachel's office romance James was a big fat mistake and she's more than happy to upcycle him… Or is she? Homebody Sarah hasn't had a date in years but when her transformation finds men falling at her newly-pedicured feet, will her popularity be worth the sacrifices she's making? And Catherine falls asleep more often on her desk than on a man, so when she builds the perfect partner who ticks all her boxes, surely it's a recipe for love . . . not disaster?
There's someone for everyone, right? These best friends are about to find out for themselves . .
There's the 6 for my next bulk read.  I've only just realised that one of them is the second in a series but I'm hoping it can be read as a stand-alone book as well, if not I'm going to be having to hunt it down to read the first one!!
I did end up buying books yesterday, the Man-Child is going to go mental when he realises!!!
The recent, sneaky purchases:
The Shadow Queen by C.J Redwine


The Food of Love Cookery School by Nicky Pellegrino


The First Last Kiss by Ali Harris


The Cake Shop in the Garden by Carole Matthews


The Three by Sarah Lotz

I must be going through a bit of chic-lit/romance/girly thing at the moment. I'm a sucker for the whole selection of genres.  I'm trying to mix things up a bit with some fantasy/crime/thriller/suspense but I keep going back to the grand old story of Love! Must be something in the air at the moment.
What's everyone reading at the moment?  Have you read anything that you want to shout about from the  rooftops? Any great recommendations that you can't shut up about? I look to hearing from you!!