Angelfall Sypnosis: It's been six weeks since angels of the apocalypse descended to demolish the modern world. Street gangs rule the day while fear and superstition rule the night. When warrior angels fly away with a helpless little girl, her seventeen-year-old sister Penryn will do anything to get her back.


Anything, including making a deal with an enemy angel.
Raffe is a warrior who lies broken and wingless on the street. After eons of fighting his own battles, he finds himself being rescued from a desperate situation by a half-starved teenage girl.
Traveling through a dark and twisted Northern California, they have only each other to rely on for survival. Together, they journey toward the angels' stronghold in San Francisco where she'll risk everything to rescue her sister and he'll put himself at the mercy of his greatest enemies for the chance to be made whole again.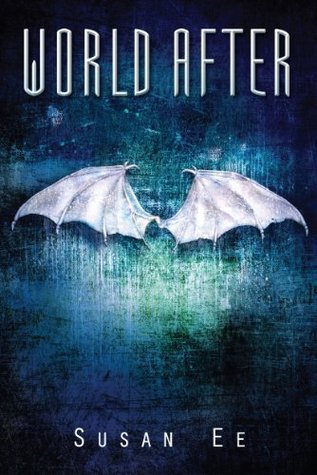 World After Sypnosis: In this sequel to the bestselling fantasy thriller, Angelfall, the survivors of the angel apocalypse begin to scrape back together what's left of the modern world.
When a group of people capture Penryn's sister Paige, thinking she's a monster, the situation ends in a massacre. Paige disappears. Humans are terrified. Mom is heartbroken.
Penryn drives through the streets of San Francisco looking for Paige. Why are the streets so empty? Where is everybody? Her search leads her into the heart of the angels' secret plans where she catches a glimpse of their motivations, and learns the horrifying extent to which the angels are willing to go.
Meanwhile, Raffe hunts for his wings. Without them, he can't rejoin the angels, can't take his rightful place as one of their leaders. When faced with recapturing his wings or helping Penryn survive, which will he choose?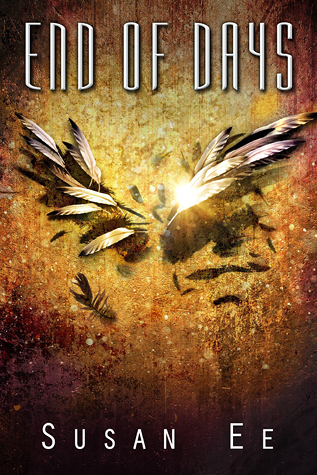 End of Days Sypnosis: End of Days is the explosive conclusion to Susan Ee's bestselling Penryn & the End of Days trilogy. After a daring escape from the angels, Penryn and Raffe are on the run. They're both desperate to find a doctor who can reverse the twisted changes inflicted by the angels on Raffe and Penryn's sister. As they set off in search of answers, a startling revelation about Raffe's past unleashes dark forces that threaten them all.
When the angels release an apocalyptic nightmare onto humans, both sides are set on a path toward war. As unlikely alliances form and strategies shift, who will emerge victorious? Forced to pick sides in the fight for control of the earthly realm, Raffe and Penryn must choose: Their own kind, or each other?
So… I stormed through the first 2 books, and had to wait to read the third.  I'll say my bit on each book in order, and try hard to mix it all up.  I'm quite surprised on how I took to these books,
Angelfall: The beginning just dropped me straight into it.  I instantly had a liking for Penryn, Raffe and Penryn's sister Paige.  Even her Mum who is a bit.. challenging? I liked the style of the book, and even the storyline.  Penryn and Raffe work off each other well, and I ended wanting them to get "it" over and done with, it was sort of painful!  Anyway, I was hooked!! I wanted to know how it was going to end, and how it was going to work out.  I didn't have a choice but to carry on!! Well written, gripping and it just sucked me right in to it!! A well deserved 4/5!
World After: Picking up immediately where Angelfall, it dumped straight into the thick of things and made me continue my very unexpected journey with Penryn and Raffe.  I stilled liked them, still wanted to get "it" over and done with, but then also didn't want them to. If it had happened, then I think it wouldn't have continued to work as well as it does.  Again, it was well written, enchanting and just instantly great!! Another 4/5!
End of Days:  I've come to conclusion I need to read slower. I zoomed through this, desperate to find out how it ended!! I did find it rushed in places, and didn't have the same oomph as the first 2 books but I thoroughly enjoyed it just as much as the others.  The ended was what I sort of expected, sometimes it annoys me that people think Love will break all barriers down, for once I'd like a book that didn't happen in.  Anyway, although rushed in places, it was wonderfully written, the right amount of drama and enough cheesy romance to make me cringe. Yet again, a very well deserved 4/5!
---
---