So, a week into March and I've added 15 books to the shelves of Kindle and Living Room.  I'm officially out of room in my living room, I'm determined not to spend anymore money on books for a while.  I'm very determined!! I went into 2 bookshops today, and then walked out with absolutely nothing in my bag!! I'm very proud of myself!!
Right, so my 15 added books!!
R.S.V.P by Helen Warner. Synopsis: Four women, one wedding and a day to remember – or rather forget. Anna's world is rocked when she receives an invitation to her ex Toby's
nuptials – Toby was the one, the love of her life. Will attending his big day finally give her the sense of closure she so desperately craves? Or will it only re-open old wounds?
I've seen this book floating round a few shops that I use and I've been undecided about it for a while.  Then I saw it as part of a collection on The Book People and decided I may as well try it.  I'll probably end up loving it, I'm already in love with the cover!! It's stunning!
Thirteen Weddings by Paige Toon. Synopsis: Discover the scintillating new novel from the bestselling author of Pictures of Lily and The Longest Holiday!

A year ago, Bronte left Sydney for a wedding in England, where she met newly single Alex. After one amazing night together they parted ways.
Now working on the picture desk for a glassy magazine in London, Bronte is about to meet a new colleague – who turns out to be all too familiar. Alex is now engaged, but the memory of the spark they felt when they met hasn't died. As Alex's wedding day looms, it is clear that he and Bronte have unfinished business…
I've seen books by Paige Toon before and never thought to read them.  This one caught my eye and I liked the sound of it.  Paige Toon comes highly recommended from many people who are part of the same Book Groups I follow on Facebook.  The reviews are good, and varied which I appreciate.
The Nearly-Weds by Jane Costello. Synopsis: What's the worst thing that could happen to a blushing bride?
After Zoe is jilted by her fiancé Jason, she's unable to face the pitying looks of her friends and family any longer.
Fleeing to America, she is employed as a nanny by the moody, difficult, but devastatingly sexy, single dad Ryan.

She quickly wins over his children, but her boss is more of a challenge. Things aren't helped, of course, by her inadvertently displaying her knickers to his colleagues or nearly hospitalising him with a toy bow and arrow.
Thank God she's got her colourful circle of friends to keep her sane: fun-loving Trudie, hippy Amber and chilly, tight-lipped Felicity.
It is only over time that Zoe and Ryan begin to understand each other and their apparently ill-fated relationship takes on a new dimension.
There's just one problem, as Zoe soon discovers: that the past isn't always easy to escape, no matter how far away you go.
I can hold my hands up and say that I have never heard of Jane Costello. Sounds like an amusing book though.  I'm hoping this will be one of them books that get me out of a reading slump or when I'm undecided on what to read.  Fingers Crossed!!!
The Rosary Girls/The Skin Gods/Broken Angels by Richard Montanari. Synopsis for all 3: The Rosary Girls: Sprawling beneath the statue of William Penn, Philadelphia is a city of downtrodden crack houses and upscale brownstones. Somewhere in this concrete crazy quilt, one teenage Catholic girl is writing in her diary, another is pouring her heart out to a friend, and yet another is praying. And somewhere in this city is a man who wants these young women to make his macabre fantasy become reality. In a passion play of his own, he will take the girls–and a whole city–over the edge.
Kevin Byrne is a veteran cop who already knows that edge: He's been living on it far too long. His marriage failing, his former partner wasting away in a hospital, and his heart lost to mad fury, Byrne loves to take risks and is breaking every rule in the book. And now he has been given a rookie partner. Jessica Balzano, the daughter of a famous Philly cop,
doesn't want Byrne's help. But they will need each other desperately, since they've just caught the case of a lifetime: Someone is killing devout young women, bolting their hands together in prayer, and committing an abomination upon their otherwise perfect bodies.
Byrne and Balzano spearhead the hunt for the serial killer, who leads them on a methodically planned journey. Suspects appear before them like bad dreams–and vanish just as quickly. And while Byrne's sins begin to catch up with him, and Balzano tries to solve the blood-splattered puzzle, the body count rises. Meanwhile, the calendar is approaching Easter and the day of the resurrection. When the last rosary is counted, a madman's methods will be revealed, and the final crime will be the one that hurts the most.
The Skin Gods:When a sadistic movie buff begins re-creating some of the most gruesome murder scenes ever captured on celluloid — the chainsaw scene from Scarface, Glenn Close's infamous bathroom demise in Fatal Attraction, etc. — Philadelphia homicide detectives Kevin Byrne and Jessica Balzano (featured in 2005's The Rosary Girls) must catch the notorious psycho before he's gone with the wind.

Videotaped footage of the reenacted murders begins showing up, spliced into rental videos that have been stolen from and then replaced in independent video stores, and Byrne and Balzano — who are both dealing with life-changing issues — must somehow track down an ingenious madman dubbed the Actor, "a man of a thousand guises, skilled in the arts of dialect and stage movement." Byrne, who is recovering from a near-fatal gunshot wound to the head, and Balzano, who is struggling with a crumbling marriage, follow a meandering evidence trail that leads them through seedy no-tell motels, big-budget movie sets, the subterranean realm of fetishist pornographers, and, eventually, the stuff of their worst nightmares.
Broken Angels: When the first body is found, mutilated and strangled on the riverban
ks, Philadelphia homicide detectives Kevin Byrne and Jessica Balzano suspect yet another case of random urban violence. Then it happens again. And again.
Carefully dressed and posed, each victim seems to tell a story so gruesome that Byrne and Balzano struggle at first to make sense of the killer's dark and twisted imagination. But when they stumble upon a collection of old fairy tales, the fragile link between the murders suddenly becomes clear – and with it the terrifying conclusion of the killer's plan.
Desperately, they try to anticipate the madman's next move, but as the body count rises, the killing spree spirals out of control …
Again, I've never heard of these but I'm always game for a gritty murder/crime book!!
Rebel of The Sands by Alwyn Hamilton. Synopsis:She's more gunpowder than girl—and the fate of the desert lies in her hands.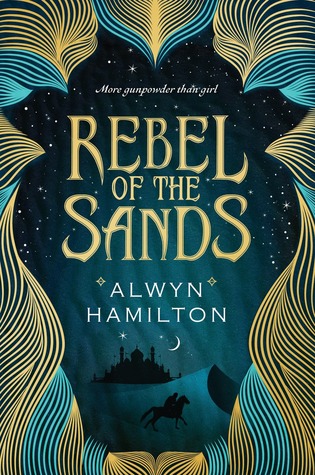 Mortals rule the desert nation of Miraji, but mystical beasts still roam the wild and barren wastes, and rumor has it that somewhere, djinni still practice their magic. But there's nothing mystical or magical about Dustwalk, the dead-end town that Amani can't wait to escape from. Destined to wind up "wed or dead," Amani's counting on her sharpshooting skills to get her out of Dustwalk. When she meets Jin, a mysterious and devastatingly handsome foreigner, in a shooting contest, she figures he's the perfect escape route. But in all her years spent dreaming of leaving home, she never imagined she'd gallop away on a mythical horse, fleeing the murderous Sultan's army, with a fugitive who's wanted for treason. And she'd never have predicted she'd fall in love with him…or that he'd help her unlock the powerful truth of who she really is.
I've been eyeing this book up for weeks, and then bam! Mother's Day came round and The Man-Child and C had got it as a gift for me!! I have no idea how he knew, but I'm impressed!!! The actual cover is beautiful, I wouldn't care what the story is about if I had seen it in the shop!! I'm in love with it!!
The Bones of You by Debbie Howells. Synopsis: I have a gardener's inherent belief in the natural order of things. Soft-petalled flowers that go to seed. The resolute passage of the seasons. Swallows that fly thousands of miles to follow the eternal summer.
Children who don't die before their parents.
A community in shock.

When eighteen-year-old Rosie Anderson disappears, the idyllic village where she lived will never be the same again. Local gardener Kate is struck with guilt. She'd come to know Rosie well, and thought she understood her – perhaps better even than Rosie's own mother.
A family torn apart.
Rosie was beautiful, kind and gentle. She came from a loving family and she had her whole life ahead of her. Who could possibly want to harm her? And why?
A keeper of secrets.
Kate is convinced the police are missing something. She's certain that someone in the village knows more than they're letting on. As the investigation deepens, so does Kate's obsession with solving the mystery of what happened to Rosie.
Again, I've seen this floating around a couple of Books Groups and it looks quite good!! Excited to pick this one up.
The Postcard by Leah Fleming. Synopsis: 2002, Australia
On his death bed, Melissa Boyd's father confesses a secret so devastating that Melissa, armed with only a few tattered keepsakes, including an old postcard addressed to
someone called Desmond, embarks on a journey that will take her across oceans and into the past …
1930s, London
Caroline has led a privileged life, supported by her Aunt Phoebe. But when her impulsive elopement to Cairo quickly turns sour, she finds herself alone with a newborn son. Then war breaks out and Caroline feels compelled to play her part. Leaving her son, Desmond, with Phoebe, she begins a dangerous existence on the front lines. But when Caroline finally returns, Desmond has disappeared.
This has been on my Amazon Wishlist for a very long time, and it finally dropped down in price!! So happy about it! This is exactly my sort of book!
Now You See Me by Jean Bedford. Synopsis: Journalist Noel Baker is no stranger to reporting horrific and gruesome crimes. But when a disturbing suggestion arises in a coroner's report, she decides to look into her new case more closely.

Young Belinda Carey has been killed and with the parents the obvious suspects, the police are looking no further for the culprit. But Noel senses a disturbing pattern with the deaths of other abused children and she realizes that Belinda's death may not have been at the hands of her neglectful and abusive parents. As Noel's investigation unfolds, the killer writes a diary. The diary reveals a horrific childhood with unspeakable suffering, and these demons of the past rear their heads in the present…
It reveals that the killer is right amongst them, one of an old circle of university friends.
But which one? Who could be driven to such deplorable acts?
A freebie so cannot complain.  This one came recommended from another blog page.  Seems to have a good storyline so watch this space!!
The Universe versus Alex Woods by Gavin Extance. Synopsis: A rare meteorite struck Alex Woods when he was ten years old, leaving scars and marking him for an extraordinary future. The son of a fortune teller, bookish, and an easy target for bullies, Alex hasn't had the easiest childhood.

But when he meets curmudgeonly widower Mr. Peterson, he finds an unlikely friend. Someone who teaches him that that you only get one shot at life. That you have to make it count.
So when, aged seventeen, Alex is stopped at customs with 113 grams of marijuana, an urn full of ashes on the front seat, and an entire nation in uproar, he's fairly sure he's done the right thing ..
This sounds like one of those books that everyone looks over, but then when it is picked up it's an incredible, unforgettable read.  I hope it is, it sounds like an underdog tale!
A Man called Ove by Fredrik Backman. Synopsis: At first sight, Ove is almost certainly the grumpiest man you will ever meet. He thinks himself surrounded by idiots –
neighbours who can't reverse a trailer properly, joggers, shop assistants who talk in code, and the perpetrators of the vicious coup d'etat that ousted him as Chairman of the Residents' Association. He will persist in making his daily inspection rounds of the local streets. But isn't it rare, these days, to find such old-fashioned clarity of belief and deed? Such unswerving conviction about what the world should be, and a lifelong dedication to making it just so? In the end, you will see, there is something about Ove that is quite irresistible…
This has been highly popular recently so I thought I'd see what it was all about.  Again.  I've tried reading this before but I couldn't concentrate on it.  Hopefully, second time round, I'll manage it!!
A Darker Shade of Magic by V. E Schwab. Synopsis: Kell is one of the last Travelers—rare magicians who choose a parallel universe to visit.
Grey London is dirty, boring, lacks magic, ruled by mad King George. Red London is where life and magic are revered, and the Maresh Dynasty presides over a flourishing empire. White London is ruled by whoever has murdered their way to the throne. People fight to control magic, and the magic fights back, draining the city to its very bones. Once there was Black London – but no one speaks of that now.
Officially, Kell is the Red Traveler, personal ambassador and adopted Prince of Red London, carrying the monthly correspondences between royals of each London. Unofficially, Kell smuggles for those willing to pay for even a glimpse of a world they'll never see. This dangerous hobby sets him up for accidental treason. Fleeing into Grey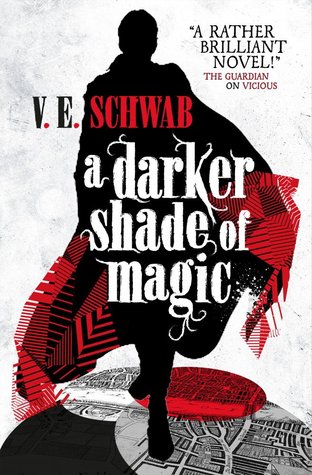 London, Kell runs afoul of Delilah Bard, a cut-purse with lofty aspirations. She robs him, saves him from a dangerous enemy, then forces him to another world for her 'proper adventure'.But perilous magic is afoot, and treachery lurks at every turn. To save all of the worlds, Kell and Lila will first need to stay alive — trickier than they hoped.
This sounds an incredible story.  Nominated for a Goodreads Choice Award for Fantasy, it must be a promising book.  Shame I couldn't find a physical copy and only on the Kindle! A books a book though!!
The Hourglass Factory by Lucy Ribchester. Synopsis: 1912 and London is in turmoil…
The suffragette movement is reaching fever pitch but for broke Fleet Street tomboy Frankie George, just getting by in the cut-throat world of newspapers is hard enough. Sent to interview trapeze artist Ebony Diamond, Frankie finds herself fascinated by the tightly laced acrobat and follows her across London to a Mayfair corset shop that hides more than one dark secret.

Then Ebony Diamond mysteriously disappears in the middle of a performance, and Frankie is drawn into a world of tricks, society columnists, corset fetishists, suffragettes and circus freaks. How did Ebony vanish, who was she afraid of, and what goes on behind the doors of the mysterious Hourglass Factory?
From the newsrooms of Fleet Street to the drawing rooms of high society, the missing Ebony Diamond leads Frankie to the trail of a murderous villain with a plot more deadly than anyone could have imagined…
I've not really read anything set during the Suffragette movement, or actually not know much about it, so this will hopefully be an eye-opener. I love the cover!!
Out Of The Blue by Gretta Mulrooney. Synopsis: Will going back to a past love end up destroying everything?

When Liv Callaghan inherits her grandmother's cottage in Cork, Ireland, it offers escape from London and her marriage to her alcoholic husband Douglas. She travels back to the beautiful place where she spent idyllic childhood summer holidays. She learns to enjoy the challenge of living in the rustic cottage, which is without electricity or running water. But looming over her is a family secret that curtailed the summer visits of her youth.
Unexpectedly she meets her first love, Aidan. But he's married now and lives locally with his family. Twenty years ago he broke her heart, so what happens when they get the chance to rekindle their relationship? Can you ever go back and what are the consequences for those close to you?
This is a wonderfully engaging novel of love, family, learning about yourself and your past, and finding independence.
This is the sort of book what I read when I want a basic book. No, basic is the wrong word.  But you get what I mean right?
So, that's all of them. I think anyway. I'm beginning to think I've got a serious problem. Maybe I'm mad? Maybe I just jave an addictive streak in me?? I know people will probably have a worse problems than this, but I haven't even got the motivation to update my book pages!!!! It feels me with dread!!
Watch this space for some ARC reviews! I was accepted for a couple the other day and have started to read one today. Seems good so far!!!